Buying a home for sale in Katy, TX is an exciting but daunting task. Aside from understanding the local market, there are several aspects of the home-buying process that you need to prepare for, as well. That's why our comprehensive guide to buying Katy, TX real estate is here to help you successfully navigate the home-buying process. Read all about it below.
AT A GLANCE:
Overview of Katy, TX
Katy, TX real estate market trends
Property types available in Katy, TX
Top neighborhoods in Katy, TX
Factors to consider when buying a home
Home buying tips to keep in mind
Overview of Katy, TX
Located along the intersection of Fort Bend, Harris, and Waller counties, Katy, TX is undoubtedly one of the best places to live in. It has something for everyone in terms of shopping, dining, recreational activities, and real estate. It also has a thriving economy and an exceptional school district. Katy offers the best of both worlds: small-town living and all the amenities of a big city.
Katy is home to around 20,000 people. Meanwhile, the Greater Katy area has a population of around 340,000 and covers Harris County, Waller County, and Fort Bend County.
Before Katy became the dynamic city that it is today, it was once a vast swath of grasslands called "Cane Island." The construction of a portion of the Missouri-Kansas-Texas (MKT) Railroad here became instrumental to Katy's growth and development. This railroad was even said to be the inspiration behind the city's name since the railroad was often referred to as "the KT."
Education-wise, the city's school district ranks high in terms of quality. In fact, Niche.com regards the Katy Independent School District (ISD) as the best school district in the Houston area. The Katy ISD, which covers around 181 square miles in southeast Texas, provides an exceptional learning environment for elementary, middle school, and high school students. It also has outstanding resources and facilities that help to boost the students' creativity, growth, and academic excellence.
As for attractions and activities in Katy, TX, the list can go on and on. From thrilling rides at the amusement park to spectacular golf courses, there are many amazing things to do here. Katy also plays host to numerous events throughout the year. Garden shows, food fests, tree-lighting ceremonies, and holiday festivals are just a few of Katy's much-awaited events.
Katy, TX real estate market trends
Katy has a strong real estate market and it shows no signs of slowing down. This boom is fueled primarily by several key factors: the city's highly-ranked school district, strong local economy, awesome parks and green spaces, a multitude of options for retail and dining, and many more. Moreover, new property developments are sprouting along its fringes, giving rise to more opportunities for owning a home here.
According to Realtor.com, the median listing price increased by 6% from the previous year. The average price of a home for sale in Katy, TX has now risen to $355,000.
Once a home is listed on the Katy, TX real estate market, it doesn't take long before the property is snapped up. Katy Magazine reports that a listed home in Katy stays on the market for around 15 to 30 days. This is just a few days below the state average of 34 days on the market.
The city's strong real estate market has turned it into a competitive one, with sellers experiencing multiple offer situations. However, buyers will have no trouble entering the Katy, TX real estate market as long as they are patient and prepared.
Property types available in Katy, TX
Katy, TX has a wide range of real estate options for you to discover. Single-family homes, townhomes, luxury properties, and new construction homes cover the majority of homes for sale in Katy, TX. Golf course homes are available, as well.
From contemporary to Mediterranean, you will find a variety of architectural styles to suit any buyer. Some of the neighborhoods in Katy also focus on a certain style more than others. The most common architectural styles in the Elyson community, for instance, are prairie style. Inspired by famed American architect Frank Lloyd Wright, this particular architectural theme employs the use of brick exteriors, open floor plans, and strong horizontal lines.
As for home features, the exceptional interiors, gourmet kitchens, and five-star master bedrooms are a given. Many of the homes in Katy, TX feature stunning outdoor areas, which are ideal for relaxing and entertaining guests. Homes may come with a swimming pool, game room, sports courts, and stainless steel appliances.
Top neighborhoods in Katy, TX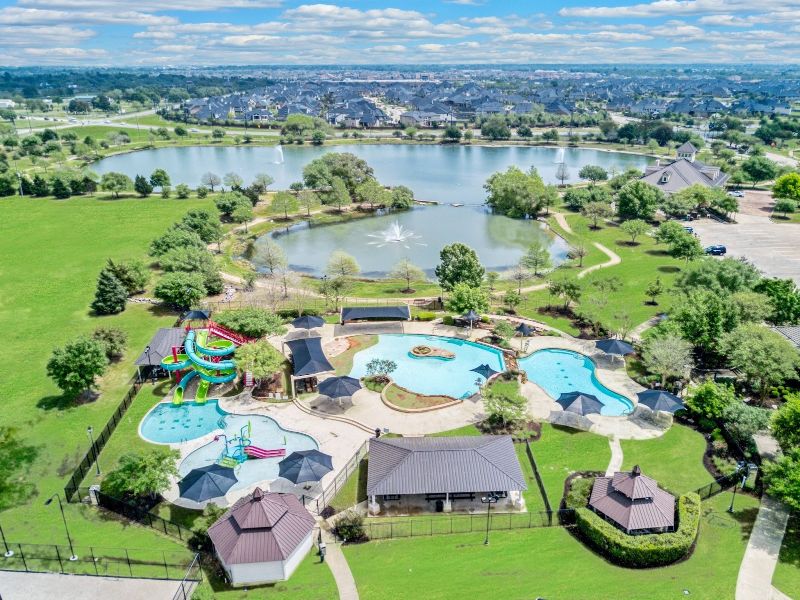 With acres of green space, incredible amenities, and huge selections of real estate options, the neighborhoods in Katy, TX are truly unmatched. These highly-ranked neighborhoods and master-planned communities offer the best quality of life. See our top five neighborhoods below:
Cane Island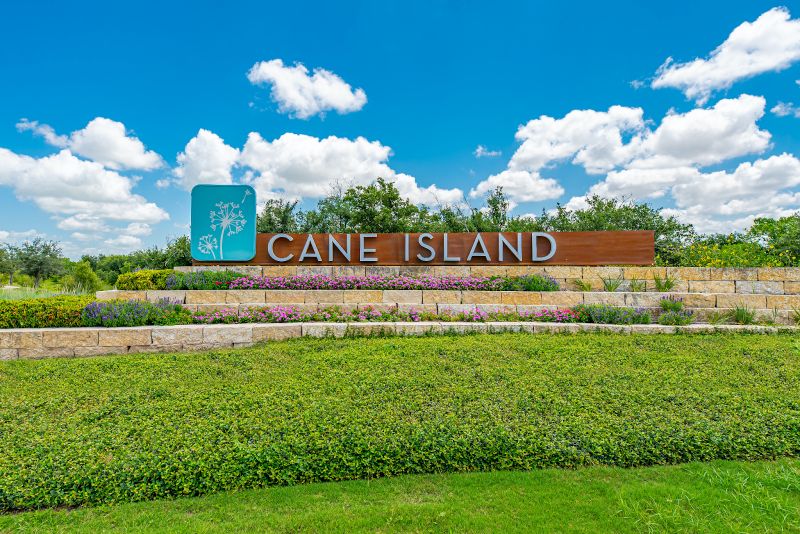 With its resort-style amenities and laid-back atmosphere, it's no wonder that Cane Island is one of the best master-planned communities in Katy, TX. Located in the heart of the city, this 1,000-acre community offers a state-of-the-art fitness center, well-maintained walking and biking trails, various sports courts, and a playground that kids of all ages can enjoy.
Cane Island's prime location is an advantage, as well. The community is just 15 minutes away from Houston's Energy Corridor, a thriving business district along Interstate 10. Downtown Houston is also just a 30-minute drive away.
Cinco Ranch
The 8,000-acre Cinco Ranch is a master-planned community unlike any other. Discover the finest shopping and dining experiences, scenic nature trails, and endless entertainment options. Cinco Ranch is also home to a spectacular golf course. Designed by Carlton Gipson, The Golf Club at Cinco Ranch features rolling fairways, elevation changes, and more than 50 bunkers within the par-71 championship course.
Cinco Ranch is divided into two areas: Cinco I and Cinco II. Cinco I is located along the east side of the Katy-Gaston Road while Cinco II is to the west.
Elyson
Hailed as one of the most beautiful neighborhoods in Katy, TX, Elyson is a premier master-planned community that puts a strong emphasis on nature and open spaces. It's the ideal place for those with an outdoorsy nature. This master-planned community offers a wide variety of recreational amenities, from miles of trails to incredible parks. One of the most notable parks here is Elyson Commons, a 145-acre public space with sports fields, picnic areas, a playground, and a dog park.
Elyson residents have easy access to major roads and highways like State Highway 99 (more commonly known as Grand Parkway) and Interstate 10.
Seven Meadows
Nothing compares to living in a golf course community like Seven Meadows. Named after the seven well-landscaped meadows within the community, Seven Meadows is the perfect residence for avid golfers or those who just want to savor the golf course lifestyle.
The Meadowbrook Farms Golf Club, consistently rated as one of the best golf courses in Houston, has a par-72 course that spans around 5,000 to 7,000 yards. This beautifully-designed Greg Norman Signature Course is surrounded by gorgeous hardwood trees and colorful native wildflowers.
Residents have endless recreational options when it comes to neighborhood amenities like parks, playgrounds, and fitness facilities. With its prime location, restaurants, shops, and retail stores are just a short distance away.
Tamarron
Tamarron may be one of the newest master-planned communities in Katy, TX but the top-notch amenities here are attracting many new residents to it. Aside from the miles of walking trails, acres of green spaces, and various sports fields, residents can also enjoy the community's 4,700-square-foot clubhouse. The Club at Tamarron offers swimming pools, lounge areas, playgrounds, and a fitness center.
As for real estate options, residents can choose from over 4,000 new construction homes with varying lot sizes from 6,000 square feet to as much as 9,000 square feet.
Factors to consider when buying a home
Since buying a home is one of the biggest and most important decisions that you will make, there are certain factors that you need to take into consideration before signing on the dotted line.
Location

If there's one thing to be said about location, it's that this is an incredibly valuable factor for anything related to real estate. You can change many details of a home but never its location. That's why it's crucial to study your requirements for a house's location before anything else. Do you want to live close to or within city limits? Or are you looking for an ideal suburban locale with more space and fewer crowds?

Finding a good location also involves accessibility and mobility. That said, you need to check out the major transit routes, highways, and roads and how near your preferred neighborhood is to these.

The size and features of the home

Bigger is not always better, especially when it comes to a house. You could end up with too much underutilized space that still requires regular upkeep in the long run. To avoid this, decide early on how much space you will actually use. How many bedrooms and bathrooms do you need? What's the minimum and the maximum square footage that you want in a property?

Give some extra attention to the kitchen, as well. As the heart of the home, the kitchen provides sustenance to every member of the family and is a favorite venue for bonding with friends and family. As such, it garners the highest foot traffic among a home's many living spaces. Considering its level of importance, you need to assess the kitchen of a potential home first. Evaluate its countertops, cabinets, appliances, and its functionality.

Neighborhood

Every neighborhood has its own particular vibe, and it's up to you to know if it's the kind of vibe that resonates with you. To do so, try visiting a potential neighborhood during different times of the day and observe. It may be quiet in the mornings and afternoons but the din from nearby bars might keep you awake at night. Whether you stop by the area in the morning, afternoon, or evening, you'll get a better feel of the neighborhood and how it feels to live there.

If the neighborhood you're looking at has an HOA, learn about its rules and bylaws first. That way, you can determine if the HOA rules being enforced will be compatible with your lifestyle or not.

Amenities

Choose a neighborhood that fits your lifestyle. If you love nature activities and the outdoors, opt for a neighborhood that offers walking trails, parks, and open spaces. If you want to be close to shopping centers, restaurants, and various entertainment and nightlife options, a neighborhood near the city's downtown area would be a great choice.

Resale value

While a home's resale value may be the furthest thing from your mind, it's important to consider this factor, too. When the time comes for you to sell your home, you'll naturally want it to increase in value.

A home's resale value is influenced by its location, features, and neighborhood amenities. Properties that have open spaces, natural lighting, and the right home improvements also tend to have higher home values.
Home buying tips to keep in mind
It's easy to get caught up in the excitement of buying a home. To rein in your emotions and bring you back on track, try these helpful home-buying tips.
Get pre-approved
A mortgage pre-approval is an estimate of how much you can realistically borrow from a lender. This amount is determined by your current finances and your creditworthiness. Since the pre-approval letter indicates the amount the lender is willing to loan, don't start shopping for homes without it.
Getting pre-approved is also different from getting pre-qualified. While both processes examine your finances, a pre-qualification only gives you an idea of how much loan you could potentially qualify for. A mortgage pre-approval holds more weight because the lender looks into your credit history and reviews your finances.
Create a home-shopping checklist
Finding the right one among the many homes for sale in Katy, TX can be overwhelming, especially since you need to go through all the different listings and assess each one for potential. To fast-track your search, come up with a home shopping checklist.
Your home shopping checklist gives you a better idea of the type of home to look for. It also separates your home-buying needs from your wants, which helps in narrowing down your options.
Distinguish your needs and wants by deciding on the must-have factors, the ones that are a priority, and the ones that you are willing to compromise on.
Don't skip the home inspection
While buyers can choose to waive the home inspection, it's best not to. This endeavor is crucial to identifying the minor and/or major issues of the property, from plumbing issues to structural ones. The results of a home inspection can give you more negotiating power and, of course, peace of mind.
Prior to the home inspection, have a list of what to look out for. Some of the things the home inspector should check are the foundation, roof, HVAC systems, doors, and windows.
Be familiar with the necessary documents
There are important documents that you'll need before, during, and after buying a home.
When you apply for a mortgage loan, your lender will require your tax returns, pay stubs, bank statements, and credit report. Your mortgage pre-approval letter also comes in handy when you make an offer on a home because it tells the seller that you're a serious buyer. The real estate purchase contract is the most crucial one. This binding contract between you and the seller specifies the terms, conditions, and the closing date.
Hire a real estate agent
Given the complexities of buying a home, a real estate professional's support can help to minimize the stress of going through every aspect of buying a home for sale in Katy, TX.
A real estate agent is someone who knows the local real estate market like the back of their hand. They can provide exclusive access to information and listings, which will bring you one step closer to finding the home of your dreams at the soonest time possible.
A real estate agent will also act as your representative during the negotiation phase. They have effective negotiation skills that will help you get the best real estate deal.
Work with The Jamie McMartin Group today
Looking for a home for sale in Katy, TX to call your own? Reach out to Katy's top-producing real estate team.
The Jamie McMartin Group is a people-oriented company with over 40 years of combined real estate experience. We aim to make your home-buying transaction a smooth and stress-free one. We work with different types of buyers, from first-time homeowners to those looking to relocate to Katy or its surrounding areas.
We at The Jamie McMartin Group can do more than help you buy real estate property. We can guide you toward finding the perfect house match. So, get in touch with your Katy, TX real estate experts today! Call us at 281.961.5161 or send a message to Jamie(at)TheJamieMcMartinGroup(dotted)com.